I just ate the last of my Easter candy as I sit here on the couch watching Harry Potter Weekend on ABC Family. Normally, I would feel bad about myself just wasting my days sitting on the couch doing nothing, but this is my nothing week – the week immediately following the end of Spring classes. Every year, I give myself the first week of summer to do nothing, to just sit on the couch and watch hours of mindless tv (or, in this year's case, Grey's Anatomy and Harry Potter). After this week, I start on my summer projects. I've got quite the list this summer:
1. finish the scarf I started crocheting last summer
2. learn to read French
3. review my Latin skills
4. complete PhD applications (or as much of them as I realistically can)
5. revise 3 papers for publication, edit my undergraduate thesis for presentation, and write the paper I've been mulling over since Christmas
Anyway, I digress from my original point of departure: Easter candy. I never realized how much I liked Easter candy until my endless supply of it was gone. I'm usually not a major candy person. I don't like intense sweets. My friends used to (eh, whom am I kidding, still do) make fun of me all the time when we go out for ice cream. I'm always the one asking for the raspberry sorbet or the mango sherbet. I've been told these do not qualify as "real ice cream." But, once again, I digress.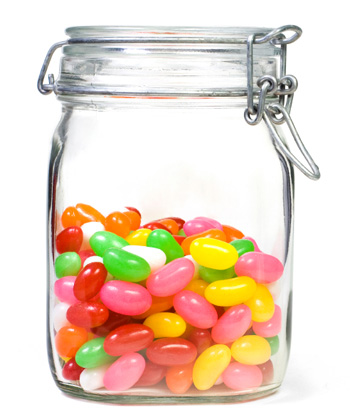 What I intended to say about 150 words ago is that I kind of love jelly beans – not the normal jelly beans, though, not the ones that are huge and taste like nothing but freeze-dried sugar. I love the fancy jellybeans – the ones that have flavors – like Starburst brand or Jelly Belly. Oh, man, do I love them.
The problem, however, is that unless it's Easter time, these fancy jelly beans are either a) impossible to find or b) $96 a box. I guess I'll just have to wait until next year. Maybe for graduation, I'll just get a huge tub of fancy jelly beans. That'd be nice.