Because I have nothing else to occupy my mind and idle fingers while at work from 8am-12pm every Monday through Thursday, I've taken to perusing online shops.  This is a dangerous game I'm playing.  I know that, but I have chosen to tempt fate.  I must give myself credit, though, because I never turn to online nerd shopping until after reading at least a section in my Shakespeare book and completing both the Daily Jigsaw and the USA Today crossword.  That's will power right there.
Anyway, some of the things I've found are simply too great to keep to myself, so I once again will be sharing a collection of delightfully dorky t-shirts for your viewing pleasure.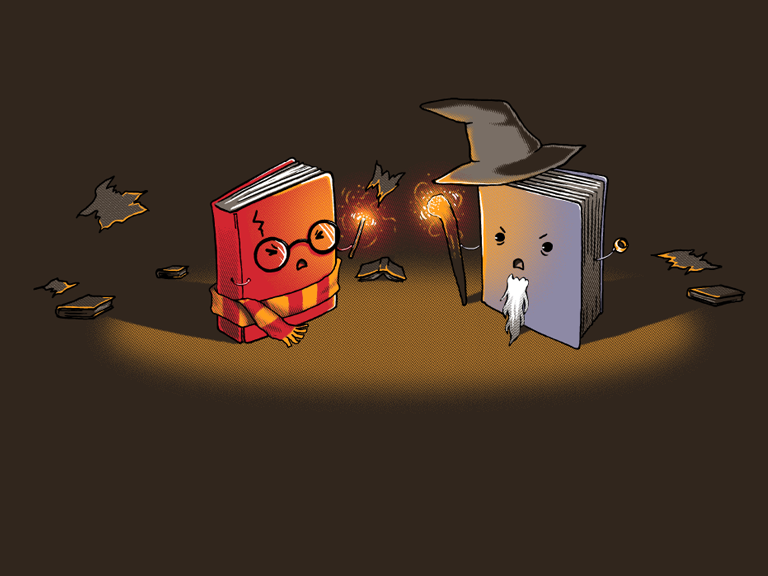 <– That, but on a shirt.  Fantastic.  Books and magic: two of my favorite things.
Courtesy of woot.com.
We all know that a closet of nerdy t-shirts wouldn't be complete without a Monty Python reference.  The fact that this happens one of my favorite movies is just a bonus.  I think I can even get over the fact that I'd be wearing math on my shirt.
To shift themes a little bit, here are two t-shirts that explain my last year of undergrad studies perfectly.  One can only hope it goes up from here and that my Master's thesis turns out to be just as fun a project as my Honors undergrad one was.
                                                                                                                                                                                                                                                                                                                                  Make that three because I just found this one:
Here's something I tell my boyfriend on a daily basis.  Perhaps displaying it in mathematical concepts will help him understand.
                                                                                                                                                                                                                                                                                                                                                                                                                                                                                                                                                                  And last but not least, in case you didn't know already that I'm a nerd: 
While none of these shirts can beat the glory of the JSTOR t-shirt I found a few weeks ago, they all certainly made me chuckle while counting down the minutes I was stuck in the office yesterday.